IT'S THE FINAL CALL FOR
ONLINE
CHECKIN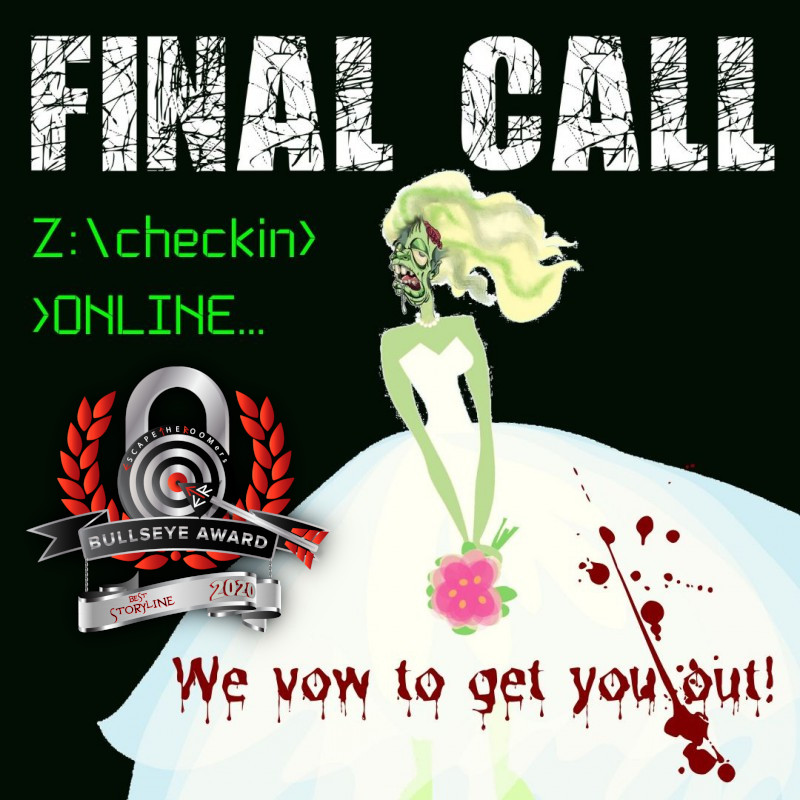 Zombies have taken over the city. Resources are running out and you're facing the challenge of your life.
Find your boarding code for the last flight to safety in the military-appropriated… bridal boutique??
Do you have what it takes to earn what you need to survive?
Now you can join a Zoom meeting with your family or friends across the globe, and together you can guide your gamemaster around the most unlikely of vigilante hideouts. Help him to get you your boarding code before he gets zombified. He certainly can't do it on his own! You can see exactly what he sees as he wanders around the room. Direct him to open that, pick this up, use that over there.
This form of playing is surprisingly immersive. It has all the qualities of playing the room in person; puzzle-solving, teamwork, observation, excitement, and fun. We have adapted the room a little to suit the format: No smell-based puzzles, for example! Virtual gameplay is fresh, smooth, and exciting. Final Call utilizes a fun and immersive mix of real-life action and technical cleverness – we have seamlessly integrated the comprehensive Telescape game partnering system into the gameplay. The avatar's live feed is received right in the Telescape gaming area – no more switching between windows! This allows us to add a few fun features that other games just can't achieve!
Our comedic horror theme leaves you not sure whether to laugh or scream.
Challenging, but you're safe at home – only the gamemaster is in danger!
The fully integrated inventory allows you to explore 360º views – and much more -during gameplay.
Type: Skill
Style: Adrenalin
Time: 60 Minutes
Players: 2 – 6
Price: €50-90
Location: Your place
The style of the game is creepy, but not outright scary. There is low lighting.
Play is via Telescape, with audio provided by Zoom.
Mon-Sun, 12:00 – 22:00 (GMT)
If booking from a radically different timezone, contact us to play outside these hours.
It's finally happened – the zombie apocalypse is here. The streets are full of the undead and you can't stay barricaded in your home any longer. Humanity's last stand is about to be staged.
The 'authorities' are ready to fight. They're going to be exterminating everything they see.
But not everyone's a fighter. There are rumours that society is reforming somewhere far from here – somewhere safe. The living whisper between them of a test to be taken to prove your worth and win a coveted boarding pass for the final flight to humanity's last great stronghold.
It's too dangerous to go yourselves, but there's one vigilante left who's willing to step up. With your help, he'll find the code you need to gain access to the plane. Whether he can survive the zombie hoards to fly with you is no sure thing. But there's no real option. Escape, or meet a grisly end.